| | |
| --- | --- |
| Aluminum profiles with natural anodized surface (the highest-quality surface of aluminum profiles).These profiles were developed particularly for the purpose of construction of pool roofs and therefore they meet important requirements for stability of the whole construction. At the same time, they are relieved enough to allow the roof traveling to be as convenient as possible. We use five basic types of bearing profiles: 30x50, 40x50, 50x50, 70x50 and 90x50. Since May 1, 2008, 30x50 and 40x50 profiles (the most frequently used ones) have been innovated and after load tests, they are now firmer by 17 % than regularly used profiles | |
Polycarbonate Plates
For roof paneling, we use Makrolon polycarbonate plates. All plates are finished with a special coating preventing formation of drops – so-called NO-DROP finish.
Makrolon Multi UV Perforated Polycarbonate Plates
Makrolon perforated plates are an exceptional material for unbreakable thermal-insulation glazing, daylighting and roofing. They are finished with a coextruded coat protecting against UV radiation, which provides extraordinary resistance to aging due to climatic conditions, long durability, long-term preservation of optical characteristics and it also helps preserve high firmness and bearing capacity. The coat is applied to one side of the plates.
Thanks to high impact resistance, polycarbonate plates provide high safety, ruling out formation of splinters, and it also minimizes the possibility of damage during transportation and assembly.
Features of perforated polycarbonate plates:
extreme resistance to breaking
high resistance to weather effects
stability of physical and mechanical characteristics
within broad temperature range (-40°C to +115°C)
exceptional thermal-insulation characteristics
homogeneous surface, easy maintenance
very good light permeability
Makrolon Mono UV Full Polycarbonate Plates
The basic material used to manufacture these plates is a high-quality polycarbonate granulate produced by the company Bayer A.G. Thanks to high translucence, smooth surface and virtual unbreakableness, these plates are widely used in various branches of industry, both for interior and exterior applications.
The plates are finished with a double-side coextruded UV protection, which prevents deterioration of said exceptional characteristics, allowing the plates to keep them even at -100°C to +120°C.
Features of Full Polycarbonate Plates:

extreme resistance to breaking
very good light permeability
temperature range from -100°C to +120°C
Travel Tracks
Travel tracks are manufactured from aluminum alloy with natural anodized surface.
The number of rails of the travels tracks depends on the number of pool roof segments. The height of our travel tracks is only 18 mm, as opposed to other manufacturers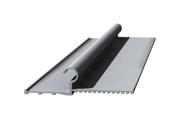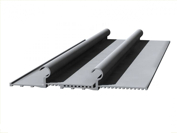 Other Elements
Travel wheels with stainless-steel ball bearings and handles from stabilized plastics Connecting materials, security elements – all in aluminum and stainless steel.